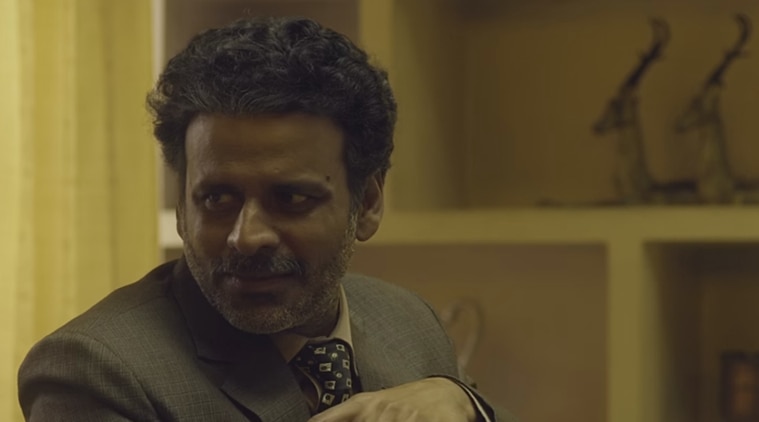 In an exclusive telephonic interview with The Indian Express, Manoj Bajpayee tells why only he could do justice to the character of Professor Shrinivas Ramchandra Siras.
From an underworld don in Satya to an honest cop in Shool, from an armyman in 1971 to a shrewd politician in Rajneeti, Manoj Bajpayee has portrayed all on the big screen with aplomb. And the actor is now all set for the release of his next venture Aligarh where he plays gay professor, a character he believes is so challenging that no other actor would have risked to do it.
In an exclusive telephonic interview with The Indian Express, Bajpayee tells why only he could do justice to the character of Professor Shrinivas Ramchandra Siras.
Ques: The trailer of Aligarh is out and it's getting great response. How excited are you and what do you expect from the film?
Bajpayee: We only want our movie to reach a wider audience and educate the people about the subject, its sensitivity and its uniqueness. I don't expect more than this. What will be its fate at the box office and how many people will watch it, that only time will tell.
Ques: While naming the film Aligarh, were you people not scared that it will a kind of generalise the mindset of the people of the city and they might get offended with its title. Why didn't you go with the name Siras?
Bajpayee: There is a trend today to feel offended by every small issue. The society today has become so sensitive that it get offended easily. What can be done for that? The incident happened in Aligarh, it cannot be denied. Now we could have gone with either the name Aligarh or with Siras. The majority decided to go with Aligarh and so the film was named. Our intention was not to hurt anyone's sentiment. You cannot deny the fact that great injustice was done to Professor Siras in the AMU campus. So when you cannot deny the story you have no right to feel offended.
Ques. When you were offered this film, was there any apprehension doing it? How challenging it was for you to deal with the sensitivity of the subject and its character?
Bajpayee: No, there was never any kind of apprehension. As an actor I love a challenge. And when Hansal came to me with Aligarh I was mentally prepared for the role. I was looking forward to do something which other actors will fear to do. But for it you need a subject like that. And Hansal offered me exactly what I wanted. Yes it is a fact that our industry portrays homosexuals in a very stereotypical way and it is painful. But I trust Hansal and his kind of filmmaking.
Ques: This is your second venture with Hansal Mehta after Dil Pe Mat Le Yaar. That film, though well made, didn't do so well then. Do you think the movie was ahead of its time and now the audience have matured and would have appreciated that film today?
Bajpayee: Be it Dil Pe Mat Le Yaar, Pinjar, 1971 or Road, I won't say these movies were ahead of its time, but those were apart of the movement that has brought a change in the cinema today. When you want to bring change, you have to struggle. I don't regret the fate of those films in the box office. Un filmo ne apni qurbaaniyaa di hai jissey ki ek badlaav aaj aaya hai. Today, there is an industry parallel to mainstream cinema and I believe these films have made a great contribution to that change. The new experimental films have their own audience and I would say Hansal is one such filmmaker. My association with him is not just from the time of Dil Pe Mat Le Yaar, we have worked a lot for TV.
Ques: Despite doing so many challenging roles after Satya, you were identified only as Bhiku Mhatre for a long time. With Gangs of Wasseypur, Rajneeti and Special 26, have you overcome that phase?
Bajpayee: (laughs) Ever since the promotion of Aligarh started, people have started calling me Prof Siras. Yes, that phase is over now. I am 22-years-old in the industry. My career has been a roller coaster ride. And every actor experiences that phase. I don't approach my character in a set pattern. I want to get into the skin of the character. I don't love Manoj Bajpayee, I love all my characters. And that is why people today remember all my roles.
Ques: If asked to chose among Bhiku Mhathre, Sardar Khan or Professor Siras, which will be your favorite.
Bajpayee: I remember Raj Kapoor's line if you ask a mother which among her five kids she loves the most, she will not be able to reply. I can't answer better than this because it is really tough to chose. But yes after reaching a safe position in his career, no other actor would have touched taken the risk to do Siras. I will take the credit for it and I say this with confidence.
Well its was great talking to you Manoj…all the best for your film
Thanks a lot
Source - indian express