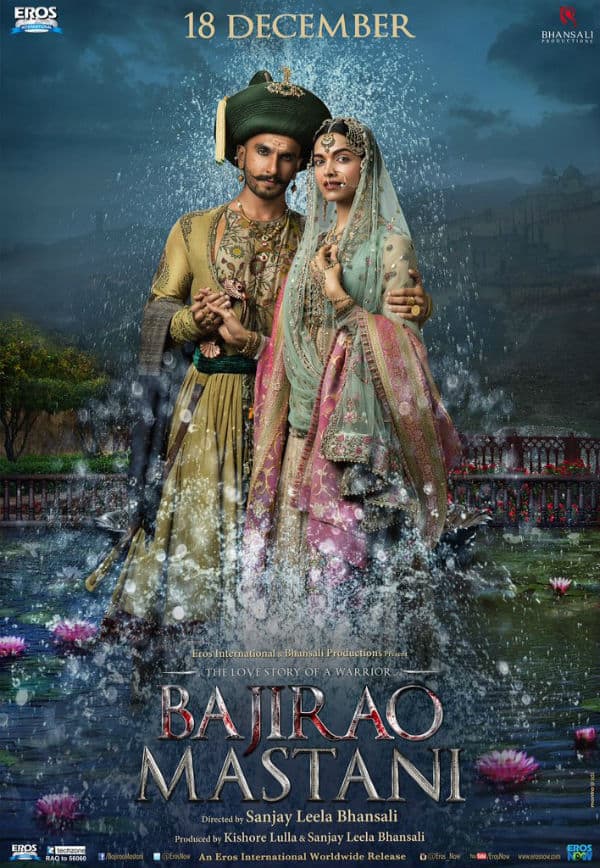 Can't get enough of your chemistry, Ranveer and Deepika!
Sanjay Leela Bhansali
's magnum opus, Bajirao Mastani has really lived upto its tag as you can see so much grandeur in the poster! While Bajirao,
Ranveer Singh
, looks royal and splendid in his Peshwa avatar,
Deepika
's scintillating Mastani ensemble definitely deserves all the praises! The movie has been caught up in serious controversies regarding the plot and the picturisation of the life and love story of Peshwa Bajirao and Mastani by the descendents of the Peshwa. But looks like that won't stop the film from leaving a mark in the Bollywood history with its larger than life feel!
Romantic? It's an understatement to how magnanimous their chemistry is and the romance is literally oozing out of the poster. Not to forget the beautiful and ethnic feel of it! With the water splashing from behind as they stand of a fountain (I'm guessing) and lotus in the pond, the poster sure is giving us a sneak peek on how colourful and glamorous the film's experience is going to be! But yeah, one thing that still makes me wonder is why the name of
Bajirao
is stained in blood, or so I assume, whereas Mastani is not.
Well, why do you think has the team coloured the name of the film in such a way? Let us know in the comments section below! Oh and also, do tell us what you think of it!
Source - bollywood life