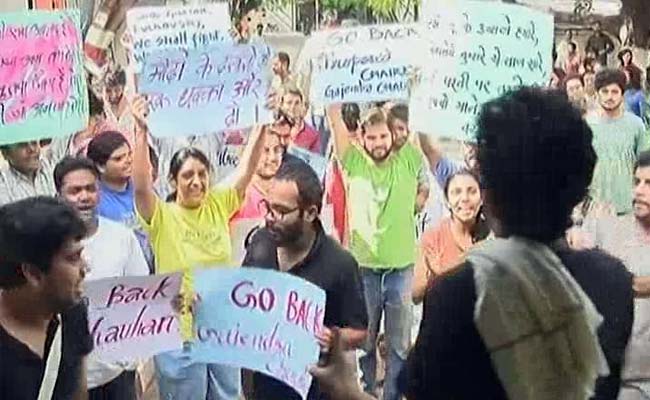 NEW DELHI: The students' strike at Film and Television Institute of India (FTII) is "apolitical" but is not getting resolved due to the "reported presence" of same set of ABVP members on the campus who had allegedly attacked them two years ago, a note from a senior official of the premier institute to the government says.
The note detailing the status of the agitation, before Congress Vice-President Rahul Gandhi's visit to the Institute, says attempts have been made by most political parties to come and join the protests, but students have, by far, restrained themselves from taking their support.
"They did, however, allow (film maker) Anant Patwardhan and Yogendra Yadav (Ex-AAP leader) to visit the campus on the first and second day of the strike respectively, which led many to believe that it is a leftist movement of some sorts.
As I understand the protest appears to be apolitical," the unsigned note by the official to the Information & Broadcasting Ministry said.
The note has been forwarded by the I&B Ministry to the Prime Minister's Office.
"Director FTII has been asked to monitor the situation sincerly and keep this ministry posted regularly," K Sanjay Murthy, Joint Secretary (Films), said a brief forwarding letter to PMO on June 26 to which the FTII official's note was annexed.
The note, accessed as file noting under the Right to Information Act, said the recent resistance by Film and Television Institute of India (FTII) students against appointments of certain members of FTII society is "coloured" by their past experience.
"Strong perceptions were formed which were reinforced by some press statements coming after the start of agitation and attributed to some society members that they would teach FTII students a lesson in nationalism etc.
"Further, on and off, reported presence of same set of ABVP members in campus, who had allegedly attacked the students two years back (as per the statements by students and even posed by media as a question to me yesterday evening) is not helping towards an early movement towards a solution," said the note.
SOURCE - NDTV