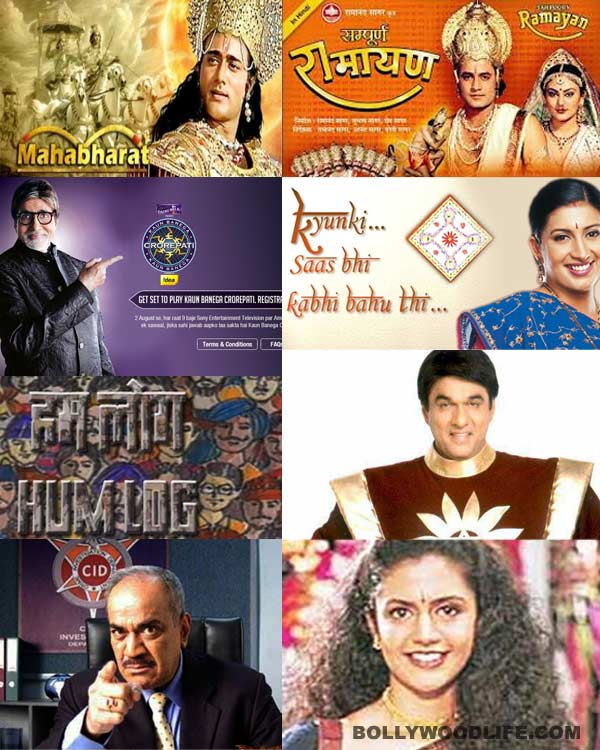 To celebrate World Television Day this week, take a look at the best TV shows over the last five decades. Which one do you think should make a comeback? Tell us….
In a country that is hugely dominated by Bollywood, Indian television has given its audience some of the biggest and most evergreen shows ever. Some of them are still running, while others are now off air, but each is memorable, for the characters they created and the actors who played them. Don't you remember Mandira Bedi – now Nikita Rai on Anil Kapoor's 24 – as Shanti? Or Smriti Irani as Tulsi Virani onKyunki Saas Bhi Kabhi Bahu Thi? And of course, there was Mukesh Khanna asShaktiman – he was last seen as the Diwan patriarch on Pyaar ka Dard Hai Meetha Meetha Pyara Pyara. We do. Stroll with us down memory lane and share your thoughts with us….
Shanti - Missing the signature tune that played in the afternoon in almost every Indian household? You definitely are still hung up on Shanti – Ek Aurat Ki Kahani, telecast on DD National. The show revolved around a young journalist and her aspirations of writing the biographies of two friends from a big Bollywood production house. Wasn't Mandira Bedi far better as Shanti than in the cricket commentary box?
Kyunki Saans Bhi Kabhi Bahu Thi – If you walked through a residential colony around 10:30 pm a few years ago, all you would have heard would be the signature tune of Kyunki Saas Bhi Kabhi Bahu Thi. The serial produced by TV queen Ekta Kapoor was a family saga and portrayed the emotional tensions between a newlywed bride and her mother-in-law. It was a huge hit with housewives who could relate to every aspect of the story. If you watch Smriti Irani give a speech as a BJP politician and you exclaim, 'Tulsi aa gayi!' you definitely still have the Kyunki hangover.
Ramayan – Once upon a time not too long ago people woke up on Sunday morning and made a beeline for the TV set at 9 am. Were you one of them? And do you find yourself drifting towards the idiot box just before 9 every Sunday? If yes, you have not lost the Ramayan habit. Based on the Hindu epic Ramayan and Tulsidas' Ramcharitmanas, the show was created, written and directed by Ramanand Sagar. It was so popular that the entire nation watched it and remembered every line. The streets would be empty, the city, silent. Those were the days….
Mahabharat – Do you watch Puneet Issar as Parshuram in the new Mahabharat and wonder how he would look as Duryodhan? You have company; many people we know miss the oldMahabharat. Based on the Hindu epic Mahabharata, this was once the largest crowd puller afterRamayan went off air. This epic serial depicted societal values and helped people choose between good and bad. The tale may have been millennia old, but the freshness in the narrative brought the characters to life and left an indelible impression on the collective mind of the Indian audience.
Kaun Banega Crorepati – The most celebrated game show on Indian television is based on the UK's Who Wants to be a Millionaire. Kaun Banega Crorepati (KBC), hosted by Amitabh Bachchan and for one season by Shah Rukh Khan, brought big screen stars to the idiot box. Amitabh made his first appearance on the small screen as host of the show and it proved to be a big turnaround in his then-sagging career. The last episode of latest season has just been shot, and Bachchan's baritone inviting 'Aaiye hum aur aap khelte hai Kaun Banega Crorepati' still echoes!
Hum Log – Do you remember Ashok Kumar's iconic voice intoning Hindi couplets and limericks? If yes, you definitely are missing Hum Log, the first Indian soap opera. It became immensely popular soon after it started airing. The story revolved around an Indian middle-class family in the 1980s, describing their daily struggles and aspirations. Tell us – which characters do you remember most? Are you watching the reruns?
Shaktiman – Remember how, as a child, you would run back from the playground on a Sunday morning at 11:50 to watch the first Indian superhero story at noon? Long before Krrish, there wasShaktiman. Created by Dinker Jani and Mukesh Khanna, the show was made to entertain children and teach them a sense of right and wrong, dos and don'ts. Shaktiman created a lot of controversy, as children started aping the antics shown in the hope that Shaktiman would arrive to save them just in time. Will he come back to save us from mundane TV shows?
CID – The longest running Indian television series – it's been going for over 16 years – is a prime audience puller even today. The show showcases the Crime Investigation Department (CID) bureau and its working. The characters in the show are so popular that their words are often used as jokes. 'Daya, darwaza tod do!', anyone?
Source..bollywood life