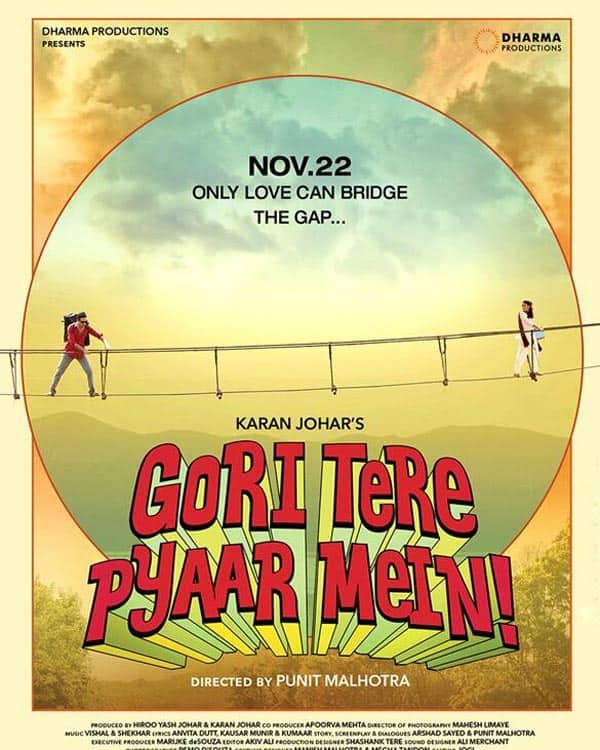 The Imran Khan-Kareena Kapoor Khan starrer is supposed to be a romantic comedy. Unfortunately, it is merely an insipid mess…
First things first. Punit Malhotra cannot direct rom-coms…period. The filmmaker tried to do a Karan Johar in I Hate Luv Storys and almost nailed it, but with Gori Tere Pyaar Mein, he failed miserably.
Gori Tere Pyaar Mein is the story of Sriram Venkat (Imran Khan), a young man who doesn't value relationships, family or friends, and Dia Sharma (Kareena Kapoor Khan), who is a hardcore social activist who wants to change the world. They meet and fall in love over one wedding song and numerous social revolts. The attraction initially is physical, but later becomes emotional and veers into complex territory, resulting in a clash of ideas and ideals, which drives them apart. However, Sriram soon realises that he is not over Dia and still loves her. But it's too late for him; Dia has moved on and now lives in a village called Jhumli near Gujarat where she is playing Mother India to the locals. Like a perfect lover, Sriram arrives in Jhumli to take back Dia home and show her that he is a changed man. But she refuses to go with him. Now since there has to be a happy ending – it is a Dharma Productions movie – Sriram is successful in wooing Dia after a lot of maar-dhaaad and conflict.
Kareena is eye catching in her appearance. Unlike the typical social activists who've graced the Bollywood frame in drab and rustic costumes, Kareena is always well turned out in colourful outfits and nicely manicured nails. Imran, on the other hand, doesn't impress at all. Come on, we have to say that the guy cannot act, no matter how hard he tries! The two look good together, but they seem uninterested and passionless. Newbie Shraddha Kapoor has an extended cameo in the film, and we have no complaints about her. She is adorable and does her part well. Anupam Kher's character has grey shades, but hey, he is spotlessly impressive.
Punit has given us a blend of rural and urban India with Gori Tere Pyaar Mein, but has desperately tried to do a Karan Johar and failed. Clearly, Karan's brand of romance isn't rocket science, but it does require some talent to pull it off. You will have to agree that texturing love sagas in a glossy setup is an art that only Karan has mastered, with Shahrukh Khan standing strong by his side. And if Punit's directorial duties weren't arduous enough, he doubles as writer to assist Arshad Syed on the screenplay and dialogue, penning the most bakwaas and insipid lines ever. Even his lame trick of borrowing fun dialogues or scenes from Bollywood hit romances isn't noteworthy.
The music of the film, Punit claimed in an interview, is apparently Vishal-Shakhar's best work till date. Frankly, the composers have done much better.
Sadly, Gori Tere Pyaar Mein is supposed to be a rom-com, but it's not. It's supposed to have peppy dance numbers, but it doesn't. It's supposed to have some stellar performances by Imran and Kareena, but it doesn't. You are supposed to watch this film? No, you aren't!
Rating:2 out of 5

Source..bollywood life