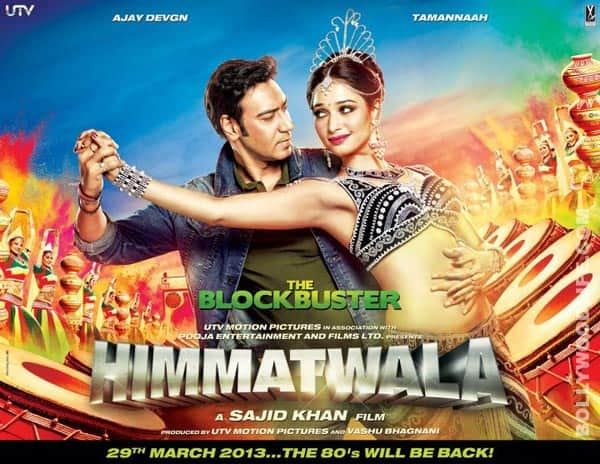 Cineswami asks why a lousy film like 1983′s Himmatwala is being remade
It's a debate as old as the hills – should we remake the classics, updated for a new, illiterate generation who are not likely to have watched Sholay but have seen Rowdy Rathore scores of times? Farhan Akhtar effectively put an end to the debate when he made a sleek, modern version of Don and less successfully so with Don 2 (note to
Shahrukh Khan
fans, this is not an attack on him. And
Salman Khan
fans, please note that he is as untalented as SRK. Aamir Khan rules. Saif Ali Khan doesn't exist).
While we are on the subject of youth, a movie journalist (for want of a better term) barely out of nappies proudly proclaimed to Cineswami that he had never seen Mughal-E-Azam and had no plans of watching it and then he looked like the fool he is when he asked Katrina Kaif why she was in a funny costume in the 'Anarkali' song (Kaisa yeh ishq hai) from
Mere Brother Ki Dulhan.
Anyway, while the jury may be out on remaking the classics, Farhan Akhtar be damned, the question is: why is a lousy film like Himmatwala being remade? It is at best, a camp film with a bewigged Jeetendra going through the motions and
Sridevi
doing her Tathaiyyas. Nostalgia is a powerful memory tool and it is considered cool to coat our collective recollections with this and treat K Raghavendra Rao's Himmatwalaas a classic. Nothing could be further from the truth. Barring a memorable performance by the late, great Amjad Khan and some campy song sequences, the 1983 Himmatwalahas nothing going for it. Simply put, it is a rank, bad film.
And therein lies the answer as to why Sajid Khan is remaking it. It's because of its sheer badness. Here is a director (for want of a better term to describe Khan's function on set) who revels in making unoriginal, copied, terrible films that are a disgrace not just to cinema but also to humanity in general.Housefull, Housefull 2, Heyy Babyy, anyone? At least now he's doing a legal remake. No doubt after Sajid has wreaked havoc on it, posterity will look back upon Jeetendra's Himmatwala as a classic. Sajid is well aided by his leading man Ajay Devgn, a performer so wooden and disinterested he makes Jeetendra look like an actor.
The
Himmatwala mahurat was broadcast live on Youtube.
What a stunning piece of breaking news. Bring on the dancing girls, distribute rupee coins to beggars and get a 100 indigent couples married off in a mass ceremony. And it's also good to know that superstition is alive and well in Bollywood. A wag from the Himmatwala set says, "Sajid wanted everything to go perfect in the very first take. He is a little superstitious about the mahurat shot and wanted to incorporate it in the film, as it is without any edits or retakes! And much to everyone's excitement, everything went off as it was planned, as this was the first time a mahurat was broadcasted live on such a humongous platform." Whoopee do.
SOURCE - BOLLYWOOD LIFE.COM